Unlike Amazon Prime and Netflix, Hulu isn't available in the UK.
The streaming service has some of the top-rated shows on TV, including hit drama weepy This is Us, The Mindy Project and dystopian nightmare The Handmaid's Tale.
But many in the UK can't access Hulu at all. Why? Because it is region-locked.
This means anyone outside the US trying to connect to the service is blocked from accessing shows, movies or other content.
When will Hulu be available in the UK?
On Twitter, Hulu explained to expectant viewers that they don't yet have international streaming rights to these shows.
While expanding to the UK is "part of our long-term goals", the company given no indication that this will start in 2018 so don't expect it any time soon.
Hulu offers a 30-day trial, and then clicks over to a $5.99 a month subscription. Based on the exchange rate in November 2017 here in England, that's around £4.67.
Some VPNs offer free trials so you can find out if it will do what you want it to do before signing up to a monthly amount.
You'll probably see this error message if you try to access Hulu outside the United States.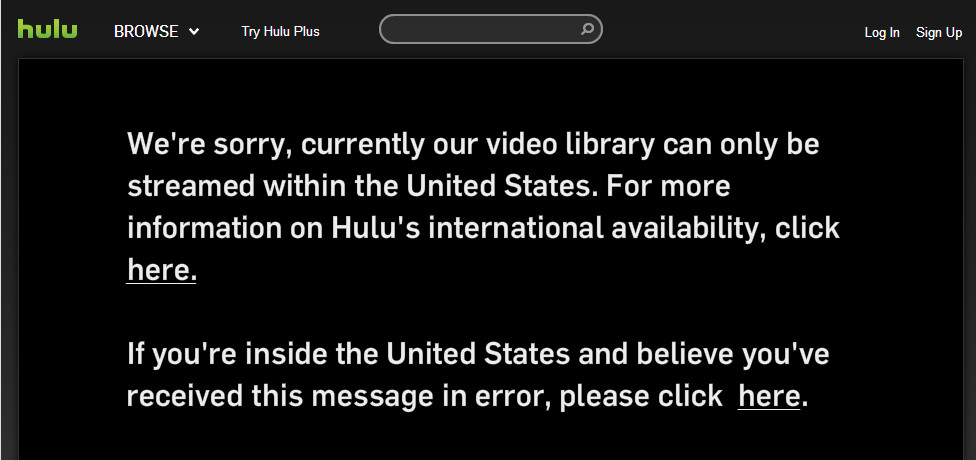 If you want to watch shows on the Hulu network and you live in the UK, then you're bang out of luck – that is – until you sign up to a VPN service that can bypass the Hulu block.
Now when you go online on your tablet or home computer, or download the official Hulu app to your Android or iPhone, the service should be available.
What you need from a VPN to watch Hulu
Fast enough to stream HD content
If your internet connection is being bounced around various international servers, then the connection may not be stable enough to support buffer-free video watching.
Uninterrupted 1080p is possible if you get the right VPN.
Safe and secure
Anonymity is a pleasing by-product of using a VPN. Even if someone wanted to track your internet activity, they couldn't.
Strong encryption
Apart from hiding your true IP address and mixing your traffic with other users, the best VPNs use 256-bit Advanced Encryption Standard (AES) methods so that your traffic can't be read by third parties. This means your ISP won't be able to see where you are and what sites you are visiting online.
Hulu knows
It's made a little more complicated by the fact that Hulu are now aware that people are using VPNs to spoof their location and access geo-protected content.
But while they are blocking some IP addresses, you can still use a VPN to get on Hulu. Only the VPNs listed below have the resources, security, and other advantages you need to get Hulu access.
Will a free VPN let me watch Hulu?
A VPN is a costly service to provide so it will be very unlikely you'll get exactly what you want.
VPNs add a layer of encryption to your connection that could slow down traffic in and out.
Downloads and uploads can be affected. But the best VPNs have constantly optimized networks so you won't see any difference between using them and not using them.
Many free VPNs will restrict bandwidth so watching HD video without breaks or buffering is nigh-on impossible.
While you may get lucky with a free VPN, they usually don't have the ability to switch away from blacklisted IP addresses, so you may only get through to your streaming service of choice for a small amount of time before it is re-blocked.
You might be forced to install other programs along with a free VPN, and if the company aren't making any money from your paycheck, you can be sure they'll claw back the costs in other ways.
A common complaint is that free VPNs inject ads or tracking cookies into your browser and then sell your data on to third parties.
It's like the old saying. If you pay peanuts, you get monkeys. Or in this case, malware.
What you need
A Hulu subscription or free trial
This is an important point. Just because you have a VPN, you don't get Hulu for free.
Hulu comes with a 30-day trial, after which it's $5.99 for 12 months. If you carry on after the first year, your monthly price shifts slightly upwards to $7.99 a month.
If you can't get Hulu where you live, you'll need to sign up using a credit card.
At one time, UK credit cards worked fine to pay for Hulu. But by late 2016, Hulu started cracking down.
One solution is that Walmart.com sell Hulu gift cards in US dollars.
You will need a five-digit US ZIP code when you sign up. This is the equivalent of a UK post code. 1990s high school drama 90210 is a popular my reference point, but you can check on the USP website to see if the five-digit number you choose is a valid ZIP code. Make a note of the city and state that ZIP code relates to, you'll need to input this data when you sign up.
A VPN that can connect to US servers
To get the best out of Hulu with your VPN, you need to be able to connect to the internet using a US server.
Then when you go on Hulu, the computers at their end recognise your phone, tablet or computer as being located in the US.
The best VPNs will allow you to choose from a selection of servers all around the world. Then, if you want to choose to watch Hulu, you can connect to one of the US servers.

ExpressVPN scores top marks for its fast, optimized network.
Several server locations available across the United States
Bandwidth strong enough to stream Hulu in HD
30-day money back guarantee
Customer service a high-priority: Livechat available 24/7
Uses 256-bit encryption
Not the cheapest but reliability, speed and security all worth paying for